At the top of class system were the Peninsulares, these were Spanish and Portuguese officials born in Europe. Beneath them were the Creoles, these people were the descendants of Europeans born in Latin America. Beneath them were numerous groups, the main ones where Mestizos and Mulattoes. The Mestizos were Spanish and Indian offspring and the Mulattoes were White American and African offspring. At the bottom of the class system were the Native Indians and the Black slaves.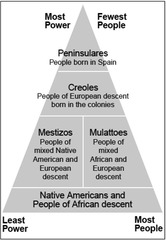 Belinda K.

Apprentice





Posts

: 49


Student Rating

: 6



It is sad to see that they based your social status on something you couldn't control, such as your heritage. It should have been based to their actions, not their blood. Unfortunately, such prejudices and separations within the society still exist today. Racism is based on skin color. How would you like to be judged on something so trivial, and out of your reach? For example, imagine being considered lesser in worth, to be unintelligent and without class, just because you had glasses. Does that make any sense? Just like these absurd social classes, it is completely irrational. This was just the way certain people wanted to gain power and access to mounds of gold. Had it been based off the accomplishments of a person, our world would be completely different right now. Interesting to think how people's greed and laziness has formed our community.

Mira W.

Research Assistant





Posts

: 117


Student Rating

: 10



I find it interesting to see how it's separated. As you can notice on the image that you put, the social class was organized based on your inheritance, so if you were from Europe you would be at the top, because you were considered more important and rich. They were they European descendants but they were born in America so they were a bit less important just because they were born in America. I find this really sad because it isn't fair and people shouldn't be classed and specially not on where they were born or who their descendants were. Good topic belindaa <3

Romane D.

Graduate





Posts

: 216


Student Rating

: 25



I find it odd that the new people that had come into the Americas had the most power even though they knew nothing about the land. I understand that they were more powerful than the Native Americans but I still think that the system is backwards.

ebznski

Research Assistant





Posts

: 114


Student Rating

: 7



Even though we don't really have a social system today, we can still see it. There are several different ones based on different things. For example money, the rich are at the top and the poor ones are at the bottom.

Vasilisa

Graduate





Posts

: 217


Student Rating

: 17



Very interesting topic. I remember learning about this. The peninsulares were at the top of the pyramid. They were the all white spanish born ones.

Joshua T

Graduate





Posts

: 264


Student Rating

: 27




---
Permissions in this forum:
You
cannot
reply to topics in this forum