Why might a historian refer to 15th century Florence as the "nucleus" of the Renaissance?
"The nucleus is structure that [...] controls the cell's growth and reproduction. It is commonly the most prominent organelle in the cell [...] and contains DNA which provides the genetic information." -Regina Bailey, Biology Expert
Like a nucleus within a cell, Florence had been - still is - one of the most prominent cities within Italy. Serving as the center of commerce and culture within Europe, this independent republic had a large income through banking and wool trade. Near the Arno River, Florence had developed one of the most significant markets during the Renaissance. The city's financial standing made it possible for people to become patrons, developing the society further by sponsoring artists and scholars. The towns were so filled with art, people would learn from each other and have competitions on the streets.
Home to countless poets, sculptors, and architects, Florence had produced some of the most famous humanists known today, such as Leonardo da Vinci, Dante, and Michelangelo. Another notable artist had been Donatello, who had been among the first ones to create realistic sculptures. An example of his work would be the statue of
St. Mark
: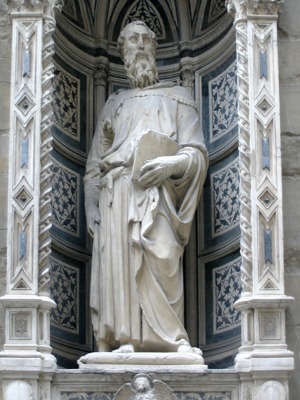 During the 1200's, the
Santa Maria de Fiore
started getting built in Florence. However, it couldn't be finished because architects were unable to build a dome large enough that wouldn't collapse. During the Renaissance, Filippo Brunelleschi figured it out and completed the historic landmark that still stands today.
Even the uncrowned kings of Florence, otherwise known as the Medici family, had spent most of their wealth on covering their palace floor to ceiling with paintings. This city had been thriving with art and culture to an extent where other cities couldn't compare. The New York of today's US, or the nucleus of the Renaissance, one might say.

Mira W.

Research Assistant





Posts

: 117


Student Rating

: 10




---
Permissions in this forum:
You
cannot
reply to topics in this forum