From North Africa and the Middle East to the Persian Gulf, popular uprisings have been dislodging long running dictatorships. For years, citizens of Egypt, Tunisia, Algeria, Libya, Jordan, Syria, Yemen, Bahrian, and Iran have kept relatively silent, but over the past month, things have changed. As history students, it's important for us to understand the magnitude of these uprisings.
Assignment
: Research recent events from the country assigned to you in class from at least 3 sources. Create a
NEWS REPORT
blog post in which you summarize the political situation in your given country. Questions you might want to address: who is currently in power? What is the structure of the country's government? Why are citizens demanding change? What do you predict the outcome will be?
Make sure to
site your sources
at the end of your post. Include pictures, statistics, and other factual content to enhance your post.
Extra Credit Opportunity:
Film your news report and post it on youtube!
Due:
Monday, February 28th

Mr. Fisher

Admin





Posts

: 284


Student Rating

: 6



Libyan citizens are struggling to take order of their country. The United States president, Barack Obama, has a firm belief that the current president of Libya, Muammar Kadhafi, needs to step down from power "now" for he has lost all legitimacy to gain back power. Kadhafi has many loyalist and supporters who are killing anyone apposing to his 40 year old regime. So far the death toll of Libyan liberalists is about 1,000, which in reality there are plenty more. Rebels have taken over almost all of eastern Libya and are closing in on the capital very quick. Kadhafi has ordered the loyalists to "shoot anything on sight." His son, who is slowly turning against his own father, has said that "everything that has and is happening, opened the doors to a civil war." Embassies are currently being evacuated out of this "war stricken" country and ANY US citizens are being rescued or saved from Libya's loyalists.
http://www.breitbart.com/article.php?id=CNG.1de1d43eba079baba9d7893981d8c7a1.161&show_article=1
http://currentevents.com/

Olen

Research Assistant





Posts

: 80


Student Rating

: 0



--Today, the Bahrain King, Hamed Ibn Isa Khalifa, released over 308 prisoners proving that he is feeling the pressure being put on him by his own people. Thousands crowded Manama's Pearl Square, celebrating the release. Families were reunited; it was a happy scene for all
25 of these released inmates were activists that had been under arrest since last year on charges for plotting against the country. Only about 100 of these prisoners were actual prisoners for political problems. There are still an estimated 300 political prisoners in custody and no word yet on their release.
--What is really shocking is that some of these released prisoners reported being tortured while being in custody. Al-Mughad, a man under custody for "denying rights to Bahrainis and not sharing wealth", claims that he was tortured and beaten repeatedly to keep him silent. His body showed signs of what seemed to be electric shock burns on both his legs and arms.
--A government email states that any mistreatment to a prisoner's well being is going to be handled very seriously, but Bahrain's close western allies are still sceptical on the approach it is taking.
--The reason behind all the controversy in Bahrain is because of religious problems between The Shiites and the Sunnis-the two main religious groups in Bahrain. The entire royal family that has complete control over the country is of the Sunnis (the Sunnis are more conservative). The rest of the country, the majority, are the Shiites and they are fed up with the way they have been treated. Food cost is high, there is a large number of people unemployed, and there have been a large number of cases of discrimination. The Shiites are protesting against the royal family, asking for a more fair government. Unfortunately Bahrain's army is made up of mercenaries and Sunnis. What this means is that the army will not have any problem shooting on the protesters because they are not their fellow countrymen (as was the case in Egypt and Tunisia, where the army backed down). Only time will tell what happens to Bahrain, but hopefully the Shiites will achieve what they have been fighting so hard for, a fair government and better living conditions.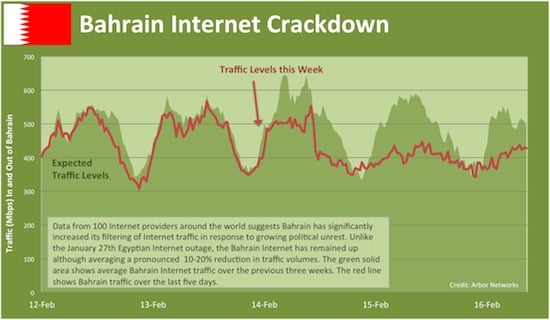 Sources:
http://www.expatinvesting.org/bahrain-revolution-analysis/
http://news.beiruter.com/node/91747
http://www.cbc.ca/news/world/story/2011/02/23/bahrain-protest-king.html?ref=rss
Last edited by Nathan on Mon Feb 28, 2011 7:28 pm; edited 2 times in total

Nathan

Graduate





Posts

: 165


Student Rating

: 0



Libyan ruler Muammar Gaddafi has been in power since the revolution of the first of september of 1969. After deposing the King, Gadaffi changed the name of the country to that of the socialist Gemaghari Libyana. With his pro socialist ideology Gadaffi changed the system of government by using "revolutionary committees" of trusted followers to replacing tribal leaders, his success formula of putting one tribe against another eliminated the possibility of any one tribe to try to over take the government. In his 41 years in power Gadaffi managed to unite a country under one flag, giving a sense of nationalism to the people. The protesters still unknown to any ideology have gone to the streets already taking control and consolidated gains in the east part of the country, but tripoli and the western area are still under pro Gadaffi control. The Libyan ruler has stated that Osama Bin Laden could be behind the revolt with the help of Islamist fundamentalists and financed by Libyans living abroad. Libya is one of the 20 main producers of oil and is one of the 10 countries with the best quality of crude oil reserves. The chaos that is presently developing and taking place in Libya can have international repercussions. The west are not keen to have another islamic state which could give further instability to the region. The lack of a defined leader or political group that could take control and put the country back to normality is a worry-some situation thus a void in the near future leadership. Col. Gadaffi is known to be a stubborn and volatile person. With over half a million african nationals, loyal to him, in a six million population is another unresolved problem. Reports of African mercenaries and Gadaffis tent militia could extend, divide or put Libya in a long civil war. A big question mark is put on how Libya would look after Gadaffi. Will the peoples will finally rule? Or will Gadaffi still rule a part of a divided country?
SOURCES:
http://www.bbc.co.uk/news/
http://edition.cnn.com/
http://countrystudies.us/libya/45.htm
http://en.wikipedia.org/wiki/Muammar_al-Gaddafi
http://en.wikipedia.org/wiki/Libya

Pacome Schembri

Graduate





Posts

: 185


Student Rating

: 0



The revolution in Bahrain stems from a religious problem between the two main religious groups, the Sunnis and the Shiites.
The Shiites are what make up the majority of the population while the Sunnis are what make up the higher class and the government. The Shiites are sick of the high unemployment rates and severe discrimination. The entire ruling family, including the king and queen of the monarchy are Sunnis.
The reason this revolution has not followed through is because the leaders of the army are made up of Sunnis, so the Shiites or the lower class cannot appeal to them like they did in Tunisia and Egypt. The army is not shooting at their own countrymen so they have no reason to stop. Unfortunately the army is mostly made up of mercenaries, meaning they will fire on the people to save their own jobs. Luckily, the Shiites are able to draw sympathy from the rest of the world and if the US army answers the call then we could see a quick end to this "war". Another option is that the Saudi Arabians could invade due to their long standing relationship with Bahrain government.
Bahrain's king, Hamed Ibn Isa Khalifa, called for "all gracious citizens from all sections" trying to negotiate and resolve the problems of the country. "I urge all my sons, the sons of our beloved Bahrain, to cooperate with him truthfully and sincerely as I am certain that Bahrain will, with God's will, come out stronger thanks to the determination of its people". He had little to say about the harsh crack downs that occurred on Thursday and Friday leaving at least 5 dead. Hopefully the Shiites will gain the power they want in government.
Sources:
http://www.expatinvesting.org/bahrain-revolution-analysis/
http://news.beiruter.com/node/91747
http://www.cbc.ca/news/world/story/2011/02/23/bahrain-protest-king.html?ref=rss
--- beginning unfinished.. was unable to upload the larger video. will be up soon though.

---
Permissions in this forum:
You
cannot
reply to topics in this forum